Cheltenham Festival Results
 The Cheltenham Festival is one of the events that punters look forward to because this event is renowned and the prizes those lucky winners can bring home are very big. You will be able to find a great number of bettors and horse racing fans that are really anticipating the release of the Cheltenham Festival results especially those individuals who have placed a huge amount of money on their horse of choice. The festival is a great venue for those who want to make a huge profit through Cheltenham Festival betting. The release of the event's successful racers makes a great number of punters and horse racing enthusiasts occupied as they anticipate for the festival more.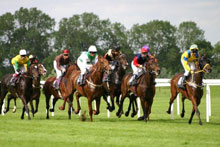 Below, we have listed a list of all the successful racers in the last five years in case there are some racing fans who want to take a glimpse of the past. These results will allow you to have an idea on who has been performing at their best and those that have been consistent over the years. You will be able to have an idea which horse should you bet for by looking through these results. The results of the Cheltenham Festival give emphasis on those horses that have really performed well in the Cheltenham racecourse. Horses who are consistent performers have bigger chances of winning than those who are not as horses normally race up to 4 times before retiring.
Cheltenham Festival Results 2012 – Day One
13:30 William Hill Supreme Novices' Hurdle (Grade 1) (4yo+, Class 1, 2m 110y)
1. Cinders And Ashes (J M Maguire) 10/1
2. Darlan (A P McCoy) 7/1
3. Trifolium (D N Russell) 15/2
19 Ran
14:05 Racing Post Arkle Challenge Trophy Chase (Grade 1) (5yo+, Class 1, 2m)
1. Sprinter Sacre (B J Geraghty) 8/11Fav
2. Cue Card (J Tizzard)  13/2
6 Ran
14:40 JLT Specialty Handicap Chase (Grade 3) (5yo+, Class 1, 3m 110y)
1. AlfieSherrin (R McLernon) 14/1
2. Fruity O'Rooney (J E Moore) 16/1
3. Our Mick (J M Maguire) 11/1
4. The Package (T J Murphy) 6/1
19 Ran
15:20 Stan James Champion Hurdle Challenge Trophy (Grade 1) (4yo+, Class 1, 2m 110y)
1. Rock On Ruby (N Fehily) 11/1
2. Overturn (J M Maguire) 20/1
3. Hurricane Fly (R Walsh) 4/6Fav
10 Ran
16:00 Glenfarclas Handicap Chase (Cross Country) (5yo+, Class 2, 3m 7f)
1. Balthazar King (R Johnson) 11/2
2. A New Story A P Heskin) 20/1
3. WedgerPardy (Miss J Coward)  33/1
4. Sizing Australia (A Lynch) 5/1
16 Ra
16:40 OLBG Mares' Hurdle (for the David Nicholson trophy).(Grade 2) (4yo+, Class 1, 2m 4f)
1. Quevega (R Walsh) 4/7Fav
2. Kentford Grey Lady (N Fehily) 14/1
3. Golden Sunbird (R M Power) 66/1
20 Ran
17:15 Pulteney Land Investments Novices' Handicap Chase (Listed) (5yo+, Class 1, 2m 4f 110y)
1. Hunt Ball (N Scholfield) 13/2Fav
2. White Star Line (B J Cooper)  14/1
3. Owen Glendower (A Tinkler) 33/1
4 .Battle Group  (T Scudamore) 33/1
20 Ran
Cheltenham Festival Results 2012 – Day Two
13:30 Diamond Jubilee National Hunt Chase (Amateur Riders' Novices' Chase) (Class 2, 4m)
1. Teaforthree (Mr J T McNamara) 5/1Fav
2. Harry The Viking (Mr W Biddick) 7/1
3. Four Commanders (Miss N Carberry) 10/1
19 Ran
14:05 Neptune Investment Management Novices' Hurdle (Registered As The Baring Bingham Novices' Hurdle) (Grade 1) (Class 1, 2m 5f)
1. Simonsig (B J Geraghty) 2/1Fav
2. Felix Yonger (P Townend) 16/1
3. Monksland (P Carberry) 11/2
18 Ran
14:40 RSA Chase (Grade 1) (Class 1, 3m 110y)
1. Bobs Worth (B J Geraghty) 9/2
2. First Lieutenant (D N Russell) 9/2
3. Call The Police (P Townend) 20/1
9 Ran
15:20 sportingbet.com Queen Mother Champion Chase (Grade 1) (Class 1, 2m)
1. Finian's Rainbow (B J Geraghty) 4/1
2. Sizing Europe (A E Lynch) 4/5Fav
3. Big Zeb (R M Power) 13/2
8 Ran
16:00 Coral Cup (Grade 3 Handicap Hurdle) (Class 1, 2m 5f)
1. Son OfFlicka (J M Maguire) 16/1
2. Get Me Out Of Here (A P McCoy) 6/1JF
3. Veiled (D Bass) 25/1
4. Silverhand (P Carberry) 25/1
5. Cockney Trucker (Tom O'Brien) 66/1
28 Ran
16:40 Fred Winter Juvenile Handicap Hurdle (Grade 3) (Class 1, 2m 110y)
1. Une Artiste (J McGrath) 40/1
2. Edeymi (D N Russell) 11/1
3. Kazlian (T Scudamore)
4. Vendor (R Thornton) 3/1Fav
24 Ran
17:15 Weatherbys Champion Bumper (Grade 1 Standard Open NH Flat Race) (Class 1, 2m 110y)
1. Champagne Fever (Mr P W Mullins) 16/1
2. New Year's Eve (B J Geraghty) 9/2Fav
3. Pique Sous (R Walsh) 12/1
20 Ran
Cheltenham Festival Results 2012 – Day Three
13:30 Jewson Novices' Chase (Registered As The Golden Miller Novices' Chase) (Grade 2) (Class 1, 2m 4f)
1. Sir Des Champs (D N Russell) 3/1
2. Champion Court (A P Cawley) 8/1
3. For Non Stop (N Fehily) 8/1
10 Ran
14:05 Pertemps Final (Listed Handicap Hurdle) (Class 1, 3m)
1. Cape Tribulation (D F O'Regan) 14/1
2. Catch Me (A P McCoy)  14/1
3. Cantlow (D Elsworth) 33/1
4. Houblon Des Obeaux (A Coleman) 33/1
24 Ran
14:40 Ryanair Chase (Registered As The Festival Trophy Chase) (Grade 1) (Class 1, 2m 5f)
1. Riverside Theatre (B J Geraghty) 7/2Fav
2. Albertas Run (A P McCoy) 10/1
3. Medermit (R Thornton) 8/1
12 Ran
15:20 Ladbrokes World Hurdle (Grade 1) (Class 1, 3m)
1. Big Buck's (R Walsh) 5/6Fav
2. Voler La Vedette (A E Lynch) 20/1
3. Smad Place (R Thornton) 20/1
11 Ran
16:00 Byrne Group Plate (Grade 3 Handicap Chase) (Class 1, 2m 5f)
1. Salut Flo (T Scudamore) 9/2Fav
2.  The Cockney Mackem (S Twiston-Davies) 10/1
3. Glam Gerry (B Hayes) 33/1
4. Divers (A P McCoy) 8/1
22 Ran
16:40 FulkeWalwyn Kim Muir Challenge Cup Handicap Chase (Amateur Riders) (Class 2, 3m 1f 110y)
1. Sunnyhillboy (Mr A J Berry) 13/2Fav
2. Becauseicouldntsee (Mr R P McNamara) 9/1
3. Exmoor Ranger (Mr J Guerriero) 33/1
4. Up The Beat (Mr P W Mullins) 8/1
23 Ran
Cheltenham Festival Results 2012 – Day Four
13:30 JCB Triumph Hurdle (Grade 1) (Class 1, 2m 1f)
1. Countrywide Flame (D C Costello) 33/1
2. Hisaabaat (A E Lynch)  20/1
3. Grumeti (R Thornton) 5/1Fav
20 Ran
14:05 Vincent O'Brien County Handicap Hurdle (Grade 3) (Class 1, 2m 1f)
1. Alderwood (A P McCoy) 20/1
2. Edgardo Sol (H Derham) 25/1
3. Sailors Warn (A E Lynch) 16/1
4. Plan A (P Carberry) 20/1
26 Ran
14:40 Albert Bartlett Novices' Hurdle (Registered As The Spa Novices' Hurdle) (Grade 1) (Class 1, 3m)
1. Brindisi Breeze (C Gillies) 7/1
2. Boston Bob (R Walsh) 6/5Fav
3.Grand Vision (Tom O'Brien) 25/1
20 Ran
15:20 Betfred Cheltenham Gold Cup Chase (Grade 1) (Class 1, 3m 2f 110y)
1. Synchronised (A P McCoy) 8/1
2. The Giant Bolster (T Scudamore) 50/1
3. Long Run (Mr S Waley-Cohen) 7/4Fav
14 Ran
16:00 Christie's Foxhunter Chase Challenge Cup (Class 2, 3m 2f 110y)
1. Salsify (Mr C J Sweeney) 7/1
2. Chapoturgeon (Mr J Barber) 3/1Fav
3. Oscar Delta (Mr D Murphy) 28/1
22 Ran
16:40 Martin Pipe Conditional Jockeys' Handicap Hurdle (Class 2, 2m 4f 110y)
1. Attaglance (Harry Haynes) 20/1
2. Toner D'Oudairies (K M Donoghue) 7/1
3. Oscar Nominee (D Bass) 10/1
4. Make A Track (B R Dalton) 12/1
24 Ran
17:15 Johnny Henderson Grand Annual Chase Challenge Cup (Grade 3 Handicap) (Class 1, 2m 110y)
1. Bellvano (P Carberry) 20/1
2. Tanks For That (B J Geraghty) 9/1
3. Kumbeshwar (R Thornton) 16/1
4. Anquetta (A Tinkler)  33/1
21 Ran