Sportingbet Horse Racing
SportingBet may not be the biggest bookmaker in the world, but over the last few years it's made positive strides to becoming a serious option for many sports bettors. One of the main reasons behind their success has been due to the increasing markets they are offering up from their horse racing section. Like all UK and European focused sports books, SportingBet features horse racing very heavily throughout their site making it an ideal place for bettors of all bank rolls and abilities.
New users to SportingBet can enjoy a no lose bet when they register a new account today. Once you have entered your details, made your first deposit and placed your first bet, if that bet subsequently loses then SportingBet will reimburse that bet in the form of a free bet of the equivalent amount up to £50.
Demographics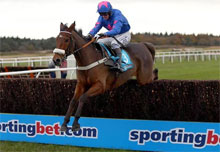 What's most impressive about SportingBet's rise to the top is the fact that they have managed to cover a wide range of events and meets not just from the UK, but around the word. Staying with the UK for just one moment, all the major meetings are apparent, as you would expect, but included are a host of smaller meeting from racecourses up and down the country. Whilst many of the larger bookmakers tend to cover the same meets, it does separate the bigger players in the market to the smaller, of which SportingBet has managed to establish themselves – for horse racing at least.
Internationally there are few that are as in-depth as SportingBet when it comes to the races they cover. The have probably the highest amount of South African based races that we have seen in the industry, with this coupled into a smattering of races from Europe, America and the Middle East, giving it a strong international feel; something that many of its competitors lack.
Horse Racing Betting Markets
The market coverage is basic at best. You get four choices of your win only, Each way, Tricast and forecast to choose from. This does apply to all races however and there are options to select the starting price rather than the live current odds.
SportingBet do provide their customers with several Ante Post markets, although these are generally just for the bigger races in the season, as you would expect. Both the National Hunt and the Flat season can be found here. Interestingly they seem to run more specials markets for the South African based racing, rather than the UK and Irish events, which seem a little odd, but certainly something to bear in mind if this is what you are looking for.
Features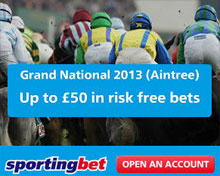 The downside about the whole SportingBet horse racing section is the sheer lack of features. In fact, apart from showing the name of the odds, the current price and any obvious information about the race like date, start time etc. there is pretty much nothing else to really discuss. It really is a section that seems stripped back to its bare minimum. Whilst this isn't always a bad thing with the amount of clutter some sites have floating about, this is a bit of an extreme.
To salvage SportingBet some dignity in this section we will say they do offer an extremely competitive line when it comes to odds on races. Even Ante Post prices tend to be amongst the best in the industry; so not all doom and gloom on the feature front.
Our Verdict
We can't help but get overriding feelings of something being missing from the SportingBet horse racing section. To say its trim would be an understatement. The lack of features certainly holds the site back from really competing with the bigger players in the market, and it's this reason why they basically don't.
But we liked the integration with the international markets and were pleasantly surprised by how many they actually offered. South African horse racing was covered particularly well. All in all, not bad from SportingBet, but it needs a few more features to be a real market leader.