Horse Race tracks
The style of any of the Horse racing events, the distances to run and the type of the horses varies by country and the region in which the race is taking place, many countries offer different types of horse races and horse betting opportunities .The world is full with different kinds of Horse Race tracks. You ca easily divide them into three main groups: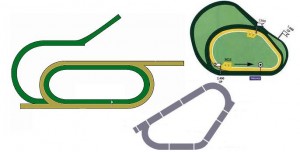 1. Flat Horse Tracks- Oval track, with hard race based on speed and stamina, The Flat courses are the most common ones in the UK, USA and in the Far East. Since its popularity, There are a large number of tracks that stage Flat Racing worldwide, most of them generally takes place from mid April through to late October. Find the information about the horse race tracks around the world, the top ones and the niche ones.
2. National Hunt Tracks – Interesting Horse Race, where the horses are jumping jump over different obstacles like hurdles or fences, during the run. The race is more about skills and timing and less about the speed of the horses. In National Hunt Racing horses, the race is for less than 2 miles, unlike the longer flat races. Anything national  hunt race over 3 miles is uncommon to these kind of races.
3. All Weather Tracks – Where there are races all around the year, 52 weeks with no reason not to race. Raining and snowing are the most interesting ones. These tracks surface is either made of Fibresand or Equitrack, in order to fit the different weather conditions.
Since the Horse Racing and the Horse Racing Betting are very popular around the world, you can find horse race tracks almost everywhere. Some countries allows online horse batting and some not, but the races themselves can take place world wide. The most interesting locations for horse racing are the UK countries and the USA. There are more are listed on the Horse Racing lists and on Racing Betting Online database. More horse racing tracks from around the world on Racing Betting Online.
UK horse race tracks will always have professional riders and horses racing in any of the events taking place. These events don't necessarily run on a year-round basis, but "meetings" do take place from March through December of each year.Find more information about all UK Horse Race Tracks
In the USA although there is a diversity of breeds and races run, at the USA horse courses the dominant type is the "flat" race. This uses the oval track and is really just a competition based on speed and endurance. Read more about the different USA Horse Race Tracks.