Nascar Racing
Nascar stands for the National Association for Stock Car Auto Racing. One of the popular sports in the USA and consists of the biggest spectator sports in the world. Nascar Racing consists of three national series (the NASCAR Sprint Cup Series, NASCAR Nationwide Series, and NASCAR Craftsman Truck Series), four regional series, and one local grassroots series, as well as two international series.
There are over 1,200 races at 100 tracks in more than 30 U.S states, Canada and Mexico.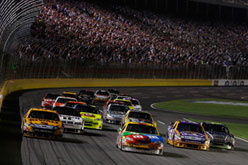 Racing Betting Online provides up to Date Nascar Sprint Cup, Nationwide Series, Camping World Truck Series, information, online picks, Nascar Betting Lines and more. If you are a fan of the Nascar Racing and looking to place a bet on Nascar Racing, the Place to start is here. Look for the best Nascar Racing information notes, together with other Motor Sports racing betting and place the best bet online.
The race cars used in Nascar are 4 doors American made cars such as Ford Fusion, Dodge Charger, Chevrolet Monte Carlo and Toyota Camry. They are protected with benders to avoid the wheels from touching between cars. The car weights around 3,400 pounds and has a wheelbase of exactly 110 inches. The engine is a 358 cubic inch V8. These powerplants can generate over 750 horsepower. By comparison a showroom stock 2007 Chevy Corvette generates about 400 horsepower with its V8 engine.
The biggest Nascar race of the year is the Daytona 500 race which is the first of each year.
Some of the big names in NASCAR these days are Tony Stewart, Jeff Gordon, Dale Earnhardt Jr. and Jimmie Johnson.
For over 60 years Nascar is holding its races, and the popularity of the races is what keeps the sports going as sponsors are loyal to the Nascar brand. The Chase for the NASCAR Sprint Cup is NASCAR's answer to the excitement of the playoffs found in other sports.
For the last ten races of the season all qualifying drivers have their points manually set. The Chasers will have their points set to 5,000 plus ten points for every race that they won during the first 26 races of the season. For example, If you finish the first 26 races in the top twelve in points and have won three races so far that season then you would start The Chase with 5,030 points.
Nascar is one of the popular car racing betting sports and is popular amongst most sports books. If you are into Nascar racing, you should start betting on Nascar. Nascar Betting  can supply all the required information before you start to bet on Nascar.