Sky Bet Horse Racing
Sky Bet has quickly established themselves as one of the best bookmakers in Europe. One of the aspects of their betting site that has propelled them to such levels is their integration with Horse Racing. They have without doubt one of the best horse racing facilities for a wide variety of bettors stemming from the casual punter to the more esteemed racing enthusiast.
Sky Bet users can enjoy a free £10 bet to be placed on any horse betting market they choose. In fact this bet can be placed on all sports and is completely free. The offer requires no deposit from the user, and the free bet is credited upon signing up a new account. On top of this you can also claim a free £5 bet on your first deposit of £5 or more.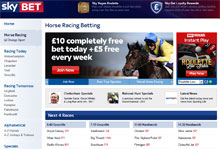 Demographics
Meetings and races are very much based around the UK and include daily races from a variety of meets. The bigger meets will get the majority of the exposure on the site but there is more than enough information from the smaller ones to keep the bulk of punters satisfied.
On top of the UK markets are also meeting from races around the world including the US, Australia, New Zealand and mainland Europe. The US meetings can often be found daily and for punters looking to bet around the clock are ideal opportunities to do so due to the time difference in the UK. Whilst these are very much limited compared to UK markets, their addition is certainly a welcomed one.
Horse Betting Markets
The market coverage for each race is simply superb on Sky Bet. You have your more common ones such as the win and each-way markets, but on top of that you can select forecasts, tricasts, Tote, Exacta and even Trifecta betting markets.
Their Specials markets also provide a wealth of a more diverse type of horse racing betting including winning distances in certain races, accumulators, future races/meetings and an inclusion of flat, national hunt and New Year specials as well.
Features
The standout feature of the Sky Bet horse racing section has to be the depth in which their race cards go into. You can find information on each specific horse, the trainer, jockey, form, going and even detailed previews of each race and how certain horses may perform.
Once you get a little deeper into picking your horse you can see its previous results and also select from any of its previous six races to watch how they performed in the race proper. The information is vast throughout their race card and certainly makes it a valuable tool in selecting which horse to bet on.
The integration with Sky Bet and their horse racing channels via their satellite television company is also another reason why punter will be swayed towards using their service. Programs such as Racing UK and At The Races between them cover pretty much around the clock racing, of which Sky Bet are keen to offer markets on.
Our Verdict
Sky Bet has one of the most comprehensive horse racing sections within the betting industry. The attention to detail shown for this sport alone makes it a fantastic betting site to use on a regular basis. With all the information at hand – and for free to Sky Bet customers – it feels much more of a betting resource rather than just a bookmaker. In fact, the betting almost seems to take a back seat!
What the site may lack with other sports, it more than makes up for in horse racing. It's massively obvious that it's a market they are keen to invest a lot of both time, and money into and it's this reason why they have managed to become one of the best horse racing bookmakers in the world.