Betfred Mobile Betting
Betfred have continuously been one of the leading bookmakers for many years now. They are the 'traditional' bookmaker if ever there was one, leading from a life of betting shops before exploring into the online betting world.
What's most impressive about a company that is heaped in the tradition that Betfred is its willingness to move with the times, and this is exactly what they have done with their release of the Betfred betting app. It's easy for companies such as Betfred who have enjoyed continued success over the years to simply sit back and enjoy what they have, but it's important for these companies to stay with what's relevant in the betting industry; and that just so happens to be mobile betting.
Free Mobile Bet

You can register a new account at Betfred directly from their superb betting app. Once you have accessed the app on your mobile device simply click the green register button in the top left and follow the onscreen instructions.
New users can enjoy a free bet of up to £50 when registering via their mobile device. Simply make your first deposit and whatever your first bet is will be matched 100% up to a maximum of £50; after the bet has been settled your free bet will be placed into your account to use as you wish. On top of this you can also claim a free £5 bet which requires no deposit to use at any of their mobile games or mobile virtual sections.
Phone and Software Compatibility
The Betfred app is available on all smartphone and tablet devices. These include iPhone, Android, Blackberry, Nokia and Windows phones. Depending on which smartphone you have will depend on how versatile the screen is. For example the smaller Blackberry screens will offer you very limited screen 'real estate' but the app will function the same way.
Interface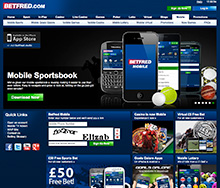 Over the past couple of years Betfred have made many changes to their mobile betting app. Many of these have come in the way of cosmetics and improvements in the interface. We are happy to report that they seem to have really cracked it with their latest update from their app. The blue and white colour scheme run throughout the app and will be familiar to regular Betfred users. Flicking between markets is very simple and takes next to no time to load.
Betfred actually have a fairly stripped back betting app compared to a lot of their competitors – in terms of design anyway. Whilst you may think this takes away from the app, if anything it actually adds it to. Less is often more in the mobile world and since it has reduced the graphics on screen, loads times and usability of the app have drastically improved.
Features
Betfred are synonymous in the betting industry for providing new and exciting markets. One of their most famous ones are that of the Goals Galore markets which have proved to be massive with punters around the world. They have now added a new app to their portfolio which includes just their Goals Galore betting markets as an addition to their betting app. We expect many competitors to start making these standalone additions in the very near future as targeted usability for these types of apps just goes through the roof.
The Betfred app is easily one of the most integratable in the industry. What we mean by this is that everything is perfectly interlinked with the likes of its casino, games, lotto and even the goals galore feature which we have just mentioned. Within just a few taps you can be at any gambling section in the Betfred portal, making it much more than just simply a betting app.
Verdict
Betfred is a company that has undergone many changes in the betting industry with companies around them coming and going. But its innovations like their mobile betting app that managed to keep them at the top of the pile for so long. There are few that look and function as well as the Betfred betting app and it really is a leader in what's quickly becoming a competitive betting environment for the 'big boys' in the industry.